FUJINTAI TECHNOLOGY CO.,LIMITED
Tel:+86-755-27392455
Fax:+86-755-27399893
E-mail: david@fujintai.com
Website: www.fujintai.com
2F Building C Feiteng Industrial No.8 Huanzhen Road
Shajing 518104 , Shenzhen .China
Copyright ©Shenzhen FU JIN TAI TECHNOLOGY CO.,LIMITED
SMT AUTO SPLICING UNIT
This unit performs easy reliable splicing by anyone contributes to maintaining high productivity.
Features
Improves part resupply work
Easy and reliable splicing that can be done by anyone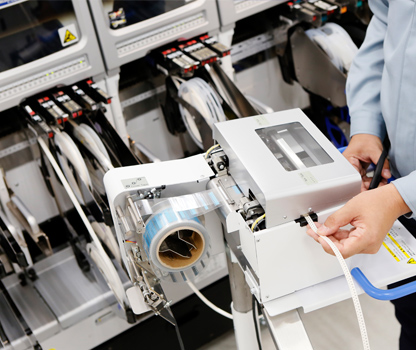 By automating splicing work, work time is drastically cut compared to doing it manually and quality is improved with stable, accurate splicing that does not have the variances and mistakes caused by manual splicing.
With stable splicing quality, there are no short stops caused by issues in connecting tapes, which in turn improves the operation rate.
Auto Splicing Unit Specifications
| | |
| --- | --- |
| Tape | 8 mm paper tape |
| Part size | 0402 (01005") to 3216 (1206") (3.2 x 2.5 mm) |
| Splicing tape | Fuji splicing tape (reel, 1200 strips per reel) |
| Tape connection position accuracy | ±0.2 mm |
| Cycle time | 5.6 sec |
| Size (L x W x H) | 450 x 450 x 998 mm (±100 mm) |
| Weight | 26 kg (including stand and battery) |
| Power supply | Rechargeable battery (Input voltage: AC 100 to 240 V) |