JUKI FEEDER ECCENTRIC STOPPER BLOCK SHAFT E6128706000
Delivery Terms: EXWORKS FOB CIF Payment Terms: Pay In Advance Payment Methods: T/T Western Union Credit Card Transportation Mode: Ocean Transport Air Transport Air Express Service International Express: DHL FedEx UPS TNT EMS
---
Contac Us
JUKI FEEDER ECCENTRIC STOPPER BLOCK SHAFT E6128706000
Part Number: E6128-706-000
Sell & Buy smt machine and spare parts.
Supply all smt spare parts at lower price.
Other Spare Part:
REF.NO NOTE PART NO D E S C R I P T I O N 品 名 Qty
1 401-17522 Y BASE Y ベース 1
2 401-17582 CHUCK OP CL GUIDE L ASM チャック OP CL ガイド L 組 2
3 401-17410 CHUCK GUIDE BASE L チャックガイドベース L (1)
4 E3404-700-000 THRUST WASHER スラストワッシャー (4)
5 E3403-715-000 GUIDE SPACER ガイドスペーサ (2)
6 401-17372 CHUCK GUIDE L チャックガイド L (1)
7 401-17374 CHUCK GUIDE SENSOR DOG L チャックガイドセンサドグ L (1)
8 SL-4030691-SC SCREW M3 L=6 座金付きなべ小ねじ M3 L=6 (2)
9 WP-0451016-SP WASHER 4.5X20X1 平座金 4.5X20X1 (2)
10 SL-6040842-TN SCREW M4 L=8 座金付き六角穴ボルト M4 L=8 (2)
11 PA-1001524-A0 AIR CYLINDER エア シリンダ (1)
12 PJ-3010405-02 HALF UNION 4XM5 ハーフ ユニオン 4XM5 (1)
13 PC-0105190-00 SPEED CONTROLLER スピードコントローラ (1)
14 SL-6030692-TN SCREW M3 L=6 座金付き六角穴ボルト M3 L=6 (2)
15 WP-0430801-SC WASHER M4 平座金 M4 (1)
16 E1432-726-000 CLYNDER NUT シリンダーナット (1)
17 401-17615 CHUCK GUIDE SENSOR BR L チャックガイドセンサBR L (1)
18 HD-0017100-00 SENSOR フォトインタラプタ (2)
19 SL-6030592-TN SCREW M3 L=5 座金付き六角穴ボルト M3 L=5 (2)
20 401-17391 Y TABLE BR Y テーブル BR (1)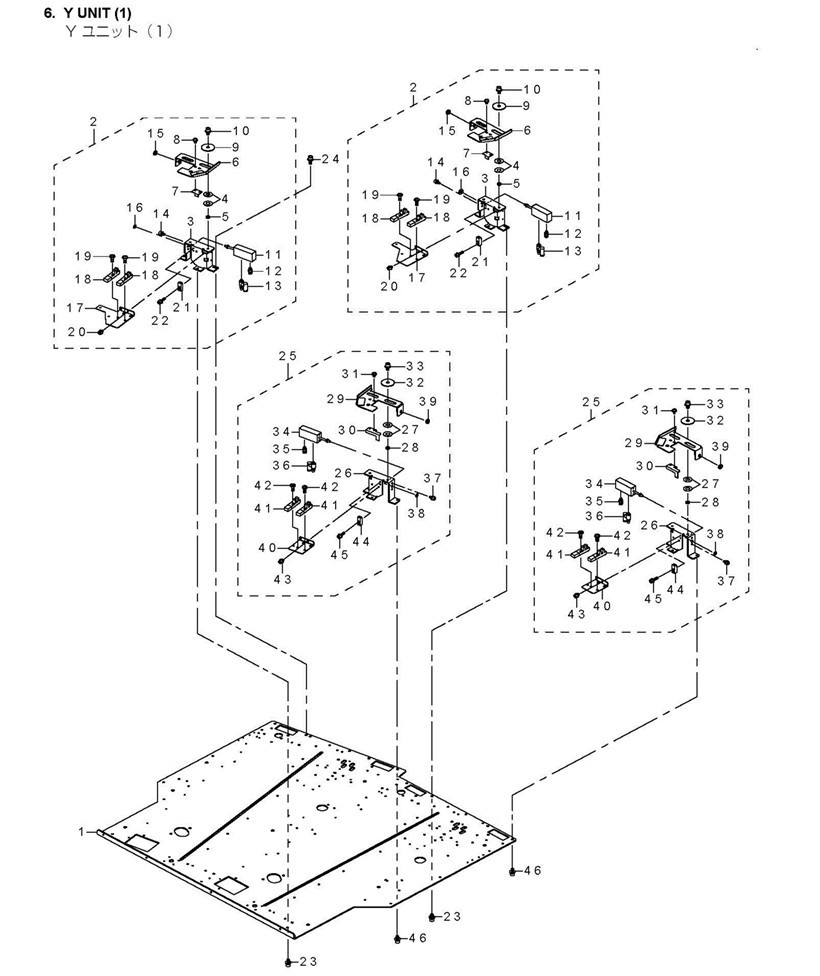 Fujintai will repay the trust of new and old customers with the most superior quality products, the most cost-effective price and the most perfect service.
FUJINTAI go the extra distance to offer you the very best deal for new and used SMT machine and spare parts by offering a comprehensive.