JUKI FEEDER POSITIONING BLOCK 56 ASM E80097060B0A
Delivery Terms: EXWORKS FOB CIF Payment Terms: Pay In Advance Payment Methods: T/T Western Union Credit Card Transportation Mode: Ocean Transport Air Transport Air Express Service International Express: DHL FedEx UPS TNT EMS
---
Contac Us
JUKI FEEDER POSITIONING BLOCK 56 ASM E80097060B0A
Part Number: E8009-706-0B0A
Sell & Buy Smt machine and spare parts.
Other spare parts.
REF.NO NOTE PART NO D E SCRI PT I O N品 名 Qty
1 400-48779 Y RAIL A Y RAIL A 2
2 SM-6040802-TN SCREW M4X0.7 L=8 六角穴ボルト M4X0.7 L=8 16
3 SB-1060007-00 BEARING ころがり軸受 2
4 400-49264 PIVOT SLEEVE B PIVOT SLEEVE B 2
5 401-17370 YJ LINK BLOCK YJ リンクブロック 2
6 SL-6041892-TN SCREW M4 L=18 座金付き六角穴ボルト M4 L=18 2
7 400-48778 Y RAIL B Y RAIL B 2
8 SM-6030802-TN SCREW 六角穴ボルト 16
9 SM-6030802-TN SCREW 六角穴ボルト 4
10 401-17371 YJ BELT CONN BR YJ ベルト CONN BR 2
11 SL-6030892-TN SCREW M3 L=8 座金付き六角穴ボルト M3 L=8 4
12 E1317-726-000 Y BELT STOPPER Yベルト押え 2
13 SL-6031042-TN SCREW M3 L=10 座金付き六角穴ボルト M3 L=10 8
14 401-17529 Y BELT Y ベルト 2
15 401-17530 YJ BELT YJ ベルト 2
16 401-03892 J BELT T ASM J BELT T 組 2
17 400-52110 J BELT TENSIONER J BELT TENSIONER (1)
18 E2016-750-000 PULLEY SHAFT Tプーリシャフト (1)
19 SB-1060009-00 BEARING ころがり軸受 (2)
20 RE-0500000-K0 E-RING E形止め輪 5 (1)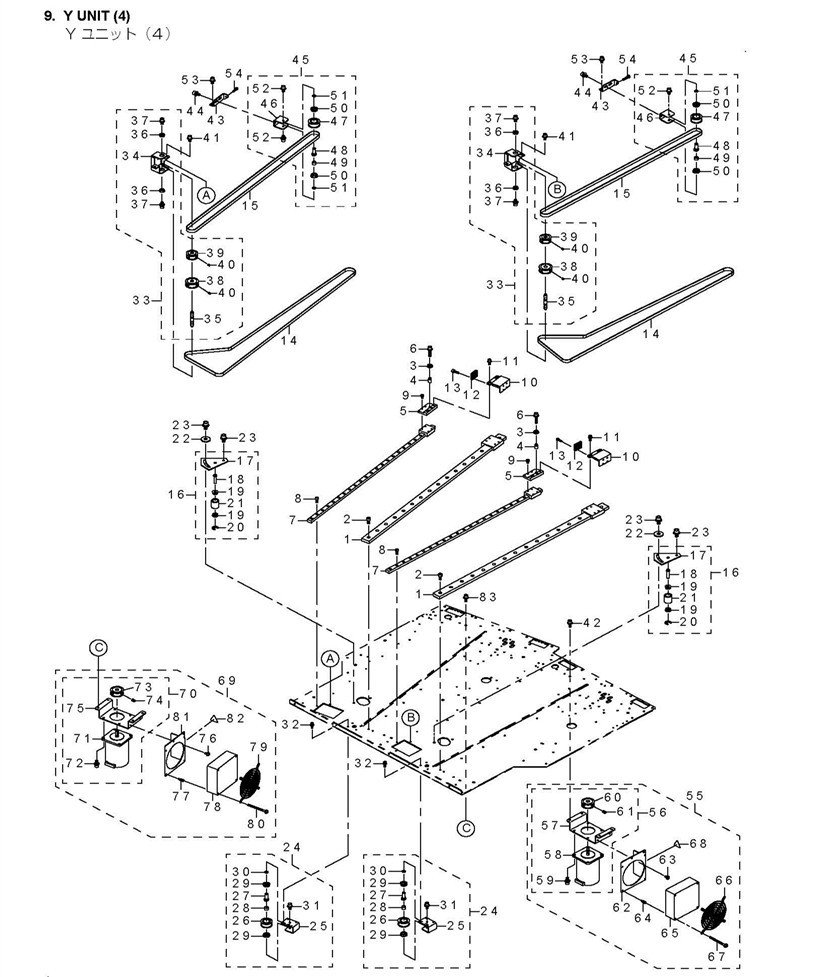 Fujintai will repay the trust of new and old customers with the most superior quality products, the most cost-effective price and the most perfect service.
FUJINTAI go the extra distance to offer you the very best deal for new and used SMT machine and spare parts by offering a comprehensive.
We providing you with top class service!
Item shipped from China mainland using airmail by DHL,FEDEX,UPS,TNT,EMS.And we accept the customer's shipping request.
Please feel free to contact us for any question.