JUKI RX-7 RX-7R RX-8 P8 HEAD NOZZLE MF40301 40157624
Delivery Terms: EXWORKS FOB CIF Payment Terms: Pay In Advance Payment Methods: T/T Western Union Credit Card Transportation Mode: Ocean Transport Air Transport Air Express Service International Express: DHL FedEx UPS TNT EMS
---
Contac Us
JUKI RX-7 RX-7R RX-8 P8 HEAD NOZZLE MF40301 40157624
Part Number: JUKI 401-57624
Model Number: MF40301
Sell & Buy Smt machine and spare parts.
Sell all JUKI spare parts at lower price.
Other spare parts:
REF.NO NOTE PARTNO D ESC R IPTION 品 名 Qty
21 SL-6043592-TN SCREW 座金付き六角穴ボルト (2)
22 PJ-3010400-01 REDUCER レジュ-サ(2)
23 EA-9500B02-00 CABLEBAND150 結束バンド 150 (5)
24 PJ-3030600-01 STRAIGHTUNION ストレ-ト ユニオン (2)
25 BT-0400251-EA TUBEHOSE,BLUE ウレタンホ-ス 青 (1)
26 BT-0600400-EC TUBEHOSE,BLUE ウレタンホ-ス 青 (3)
27 401-46071 BU_TABLE_RATE_CONTROL_BR BUテーブルコントロールBR (1)
28 #01401-46859 MTSCONNECTUNIT MTS接続ユニット 1
29 401-48001 MTS_IF_ASMMTS _IF 組 (1)
30 401-48003 MTS_IF_BRACKET MTS_IF ブラケット (1)
31 SM-4860501-SB SCREWM2.5L=5 なべねじ M 2.6 L=5 (2)
32 SL-4030881-SC SCREWM3 L=8 座金付きなべ小ねじ M3 L=8 (12)
33 PJ-3040600-04 PARTITIONELBOW 隔壁エルボ(1)
34 PX-9500010-00 PLUG 止栓 (1)
35 PJ-3080600-03 YUNIONユニオンワイ (1)
36 BT-0600400-EC TUBEHOSE,BLUE ウレタンホ-ス 青 (0.5)
37 SL-6041092-TN SCREW 座金付き六角穴ボルト (4)
38 HX-0029400-00 FIXEDBASE 固定ベース(3)
39 SM-4040601-SC SCREWM4X0.7L=6 なべ小ねじ M4X0.7 L=6(3)
40 HX-0009600-0A GROMMET エッジングブッシュ (0.1)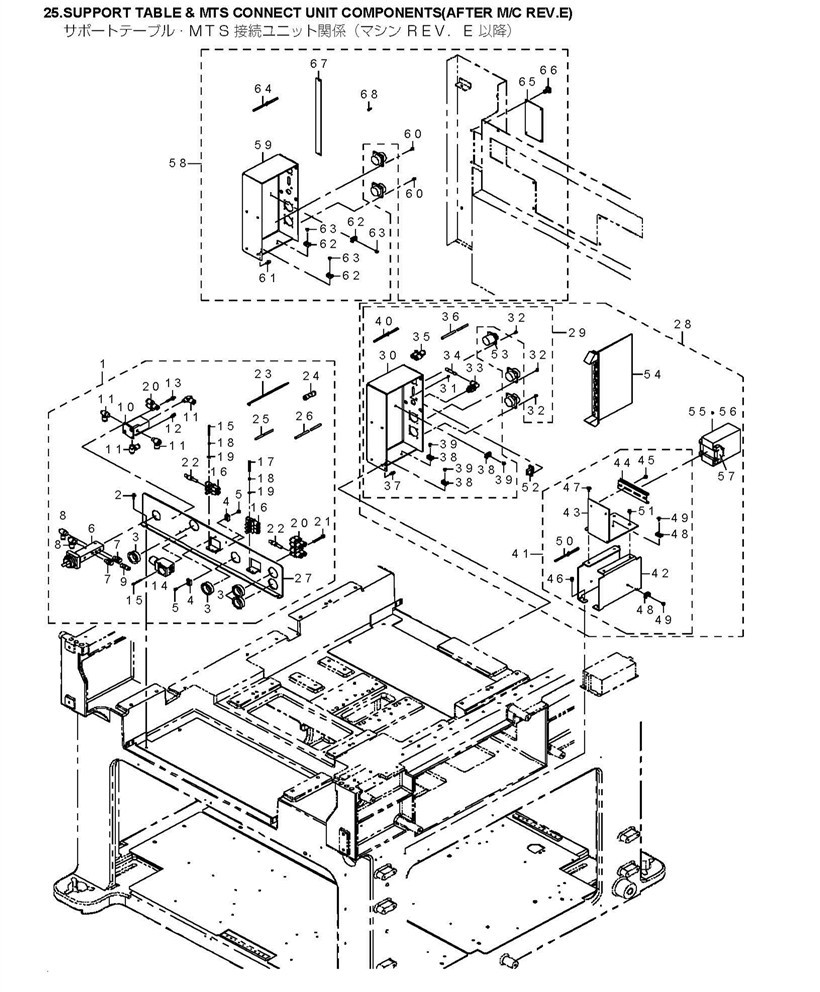 Fujintai will repay the trust of new and old customers with the most superior quality products, the most cost-effective price and the most perfect service.
FUJINTAI go the extra distance to offer you the very best deal for new and used SMT machine and spare parts by offering a comprehensive.
We providing you with top class service!
Item shipped from China mainland using airmail by DHL,FEDEX,UPS,TNT,EMS.And we accept the customer's shipping request.
Please feel free to contact us for any question.