FUJI SMT PRINTER GPX-C GPX-CS GPX-CL
---
FUJI SMT PRINTER GPX-C GPX-CS GPX-CL
FUJI SMT PRINTER GPX-C GPX-CS GPX-CL
GPX-C series machines provide a complete printing solution that combines superb cost performance with excellent printing accuracy, speed, and usability.
Features: GPX-C series
High accuracy printing for large panels.
Consistent highly rigid machine design from the base to printing section enables high accuracy printing even for large panels, and durability for maintaining printing quality.
Reduces total costs
The machine was designed with work efficiency in mind. Solder supply and cleaning can be automated and, which reduces the load on operators and minimizes the work time for changeover and maintenance.
Icons and a layout based on procedures are used to provide intuitive operation that operators can easily understand and reduce the training time.
Reliable and efficient changeover
Setting mistakes and printing defects are prevented with the verification function for solder, squeegees, and masks (option).
Cup-type auto solder supply (option) makes it possible to use a general solder cup, and this allows changeover to be performed in a short time without mistakes.
GPX-CS is compact model that maintains the basic features of GPX-C, and is suitable for dual lane production in smaller space.
GPX-CL maintains the basic features of GPX-C while supporting production of even larger panels. With a maximum panel size of 850 x 610 mm, this printer is well suited to production of the large panels used for 5G base stations and servers.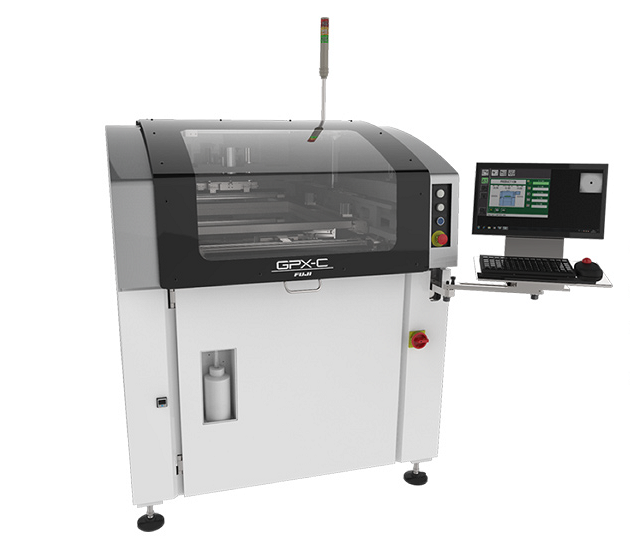 FUJI,SMT,PRINTER,GPX-C,GPX-CS,GPX-CL
undefined